Purge Guns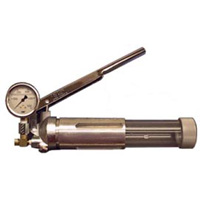 The lubrication purge gun is an easy-to-use, lever-action hand pump lubricator. The lubrication purge gun can be used to manually purge oil systems, test oil systems, or test the condition of a divider valve system. The lubrication purge gun's rugged cast iron head and aluminum chamber make it very durable and long lasting. The custom machined aluminum housing has slotted "windows" which enables the user to easily see the oil level remaining. This allows the user to refill the chamber before it is completely emptied, preventing air from being pumped into the system. The 40 inch hose assembly includes it's own built-in check valve and is rated for 5000 psi as shown on the liquid-filled pressure gauge.
Downloads (Product Data Sheets)
Instruction guide for each model of the lubrication purge gun is available for download. These files are in Adobe Acrobat (.pdf) format. These product data sheets are available to be printed out and reviewed for your convenience. You must view these downloads using Adobe Acrobat Reader, which is freely available to download at http://www.adobe.com.
| | |
| --- | --- |
| Fast Internet Connections(pdf) | Slow Internet Connections |
| Purge Gun (1 page) | Purge Gun - page 1 |