Cycle Indicators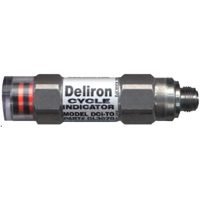 The Deliron cycle indicator is a cost-effective and easy-to-install lubrication monitoring device. It has a custom-machined stainless steel housing and a powerful internal magnet assembly built for industrial use. The Deliron cycle indicator is completely sealed and can accurately monitor fluid or grease systems. The Deliron cycle indicator can be installed on any section and either side of a divider block. The highly visible cycle indicator has a snap-action movement which makes it easy for the user to see as well as determine the precise timing of each divider valve cycle.
The Deliron cycle indicator comes in the following four models:
DCI-D model
DCI-L model
DCI-TG model
DCI-TO model
Downloads (Product Data Sheets)
Instruction guide for each model of the DNFT is available for download. These files are in Adobe Acrobat (.pdf) format. These product data sheets are available to be printed out and reviewed for your convenience. You must view these downloads using Adobe Acrobat Reader, which is freely available to download at http://www.adobe.com.